10. 08. 2020
Pendant cette longue période d'absence des établissements scolaires et universitaires, beaucoup d'élèves et d'étudiants sont obligés de se former eux-mêmes. Pourtant l'apprentissage des langues vivantes nécessite un échange régulier en interaction avec un interlocuteur, qui peut être un autre élève, le prof ou d'autres personnes qui parlent cette langue.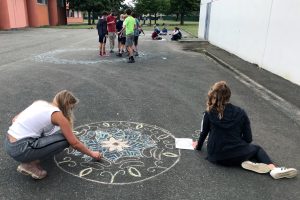 Dorothée's Language School vous propose le soutien linguistique en anglais, allemand et français pour réussir la rentrée aisément. Contrairement aux cours frontaux qui ne font pas parler les élèves mais les réduisent à une écoute muette, je vous propose des expériences conversationnelles dynamiques, interactives et intéressantes.
Réservez votre premier cours de 20 minutes gratuit
« Homeschooling » and language tuition
During this extended period of absence from school and universities many pupils and students face the challenge of having to train themselves. However, learning a foreign language is based on a constant exchange with an interlocutor, let it be another pupil, the teacher or others speaking the foreign language.
Dorothée's Language School helps you to keep up with your language performance in French, German and English when returning to classes after the Corona and summer break. I offer interactive, interesting conversation-based language tuition adapted to your specific needs.
Test a class of 20 minutes for free
Findet den Anschluss wieder!
Diese lange Zeit ohne regelmäßigen Schulbesuch stellt euch Schüler*innen vor die Herausforderung euch selbst Lernstoff anzueignen. Erfolgreiches Sprachenlernen setzt jedoch voraus, dass ihr euch häufig mit anderen in der jeweiligen Fremdsprache austauscht, ob dies mit anderen Schüler*innen , Lehrer*innen oder Freund*inn(e)n passiert.
Dorothée's Language School unterstützt euch beim Schulbeginn den Anschluss wieder zu finden. Aufgrund der aktuellen Gegebenheiten, die die jeweiligen Hygieneprotokolle der Schulen respektieren, sind interaktive Methoden, Partner- und Gruppenarbeiten derzeit nicht möglich und eine Rückkehr zu Frontalunterricht leider unumgänglich. Dies reduziert eure individuelle Sprachzeit im Unterricht und verhindert, falls ihr schüchtern seid, dass ihr euch ausgiebig in der Fremdsprache ausdrückt.
Ich biete euch interaktive, interessante Konversationskurse an, die komplett an eure jeweiligen Bedürfnisse angepasst werden.